New Drip & Dry Absorbent Mats
The new Drip & Dry Absorbent Floor Mats have a graphite gray layer on top that disperses moisture while the base layer of waterproof, durable vinyl ensures that the moisture doesn't pass through the mat and onto your subfloor.
New Drip & Dry Mats are an indispensable tool for absorbing spills in the garage, kitchen and food prep areas, bathrooms, and beyond.
This versatile flooring solution makes a great oil spill mat and is as easy to clean as other G‑Floor vinyl flooring: use a hose, power washer, or even a vacuum for quick cleaning.
For G‑Floor quality at an economical price, get a Drip & Dry Absorbent Floor Mat today!
Calling All Golfers
G‑Floor golf cart mats add a sleek look to your garage in addition to collecting debris and runoff from the road and the green. Carts and small vehicles are notorious for leaking fluids, so chemical-resistant, stain-resistant G‑Floor vinyl flooring is a natural companion to your golf cart.
Give your garage a functional, attractive golf cart mat and spend less time cleaning and more time on the green.
Made in America

Part of G‑Floor vinyl flooring's superior quality comes from the fact that it's made here in the United States. Know that when you support G‑Floor, you're supporting an American company that supports domestic manufacturing, local communities, and American labor.

Hot to Trot

After a full day in the sun, your boat's woven carpet can be downright unbearable to walk on. In tests, G‑Floor Outdoor & Marine vinyl flooring measured 13 degrees cooler than marine carpeting, and that's a world of difference.
Tips and Tricks
G‑Floor is chemical-resistant and stands up to the toughest spills like battery acid, oil, and gasoline. To keep your vinyl flooring looking its best, and for maximum longevity, clean up any harsh chemicals promptly so they don't linger.
Your Reviews Are Appreciated!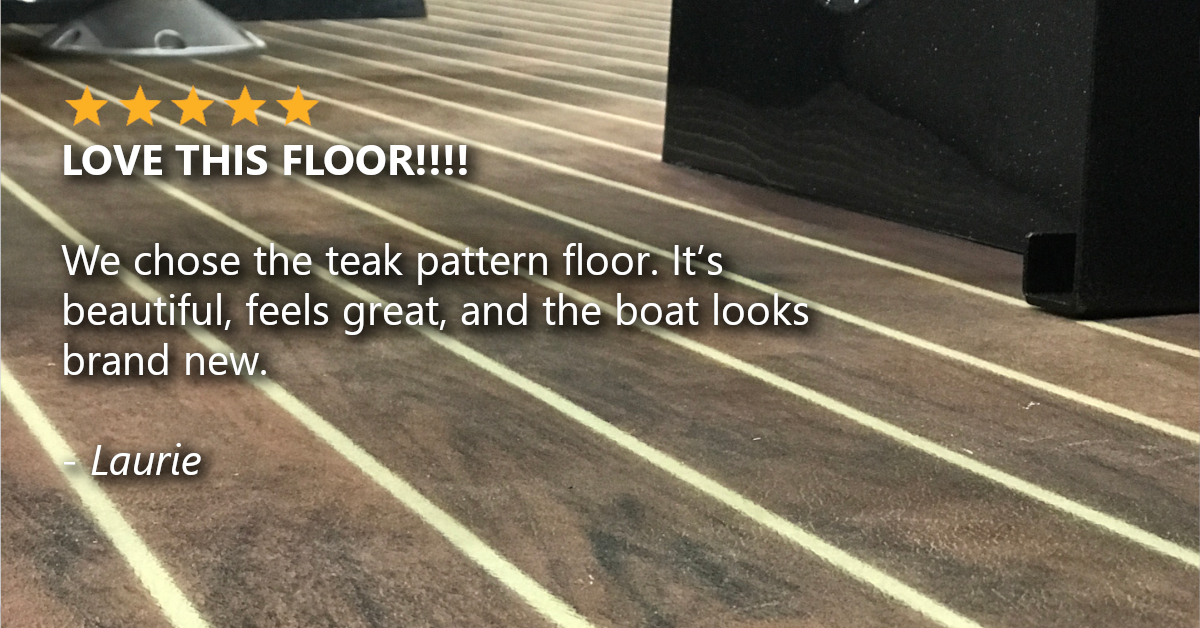 Frequently Asked Questions
Q: Why does every product say "100% vinyl?"
A: The G-Floor manufacturing process is unique compared to other vinyl flooring. Instead of bonding a "wear layer" of vinyl to a "filler layer" of paper or clay and a backing, G-Floor is one solid piece of vinyl. This gives our vinyl flooring significantly greater durability and longevity.